"Eglise Française"
Glass window I
"The 7 Candlesticks"

I saw seven golden candlesticks and in the mids, one like to the Son of man ... and his head and his hairs were white, as white wool, and as snow, and his eyes were as a flame of fire .... And his voice as the sound of many waters .... And he had in his right hand seven stars. And from his mouth came out a sharp two edged sword: and his face was as the sun shineth in his power. And when I had seen him, I fell at his feet as dead. And he laid his right hand upon me, saying: Fear not. I am the First and the Last, and Alive. (Apocalypse 1 : 12….18)
| | |
| --- | --- |
| Glass windows I | Glass window I: glass and concrete |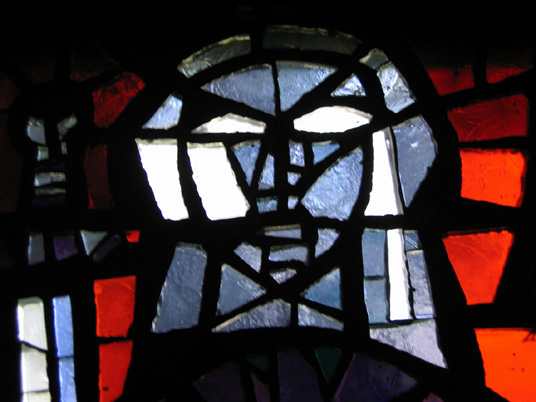 Glass window I (detail)
GLASS WINDOW I , II et III , IV , V , VI , VII , VIII , VITRAIL SUIVANT.